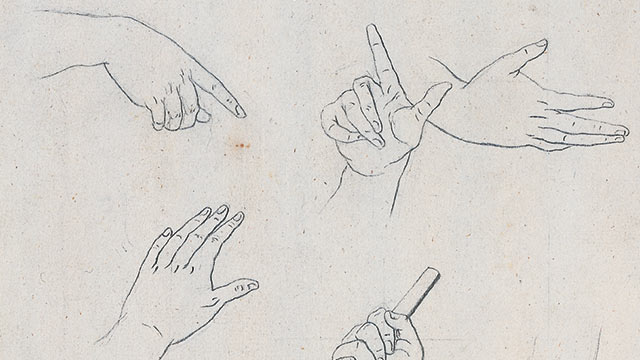 Artistic Development
Both Caspar David Friedrich's personality and his art were deeply influenced by the landscape the Baltic coast of Germany and the middle German mountain scenery. His landscape paintings opened the way to a re-evaluation of art and nature, which triggered controversial discussions amongst art critics at that time.
Friedrich's precise pictorial compositions have become synonymous with Romanticism in the way they reflect a contemplative representation of nature.

Friedrich began his formal study of art in 1790 as a private student of artist Johann Gottfried Quistorp, a drawing instructor at the University of Greifswald, who was very supportive of the promising student. At the age of 20, Caspar David enrolled at Copenhagen Academy of Fine Arts and continued his studies in Dresden in 1798. From here, he frequently set out on his hiking tours of Saxon and Bohemian Switzerland, where his close encounters with nature had a major impact on his artistic interpretation of landscape painting, which is evident in countless of his drawings and paintings. Dresden became a second home to Friedrich and, apart from extended sojourns in his native town Greifswald, the Riesengebirge (Giant Mountains) and the Harz mountains, this is where he stayed until his death on 7 May 1840.
Throughout his time in Dresden, Friedrich maintained strong ties with his home town and regularly returned to the north. In 1801 and 1802, he went on his first journeys to Rügen, others followed in 1806 and 1818. The drawings which he produced during and after those visits to Rügen and Pomerania show the beginnings of his very own characteristic style. Many of his later paintings were modelled on sketches and studies of scenic spots discovered on his journeys.

Even before finishing his first oil painting, 'The Cross in the Mountains' ('Tetschen Altar', Galerie Neue Meister) at the age of 33, he had already made a name for himself with his sepia drawings. In 1810, he gained further renown due to the fact that two of his paintings, 'The Monk by the Sea' (1808/10, Alte Nationalgalerie, Berlin) and 'Abbey in the Oakwood' (1809/10, Alte Nationalgalerie, Berlin), were purchased by the Prussian Crown Prince.
Apart from his unique depiction of nature, it is human figures, mostly seen from behind, that start to play an increasing role in his pictures from 1817/18. Examples of which are his famous painting 'Wanderer above the Sea of Fog' (1817/18, Hamburger Kunsthalle), or 'Two Men Contemplating the Moon' (1819, Galerie Neue Meister, Dresden).
Whilst Friedrich's works were popular in the 1820s, in the years to come the interest in his work ceased. His contemporaries considered his art too individualistic, too sombre or even too mystic.
In addition, Friedrich's health started to decline, culminating in a stroke in 1835, leaving the family to struggle with increasing financial difficulties. Friedrich was progressively incapacitated by his illness and finally unable to work in oil. He was limited to sepia until he had to give up painting altogether three years before his death.

Today, Friedrich's paintings are shown in many important museums throughout the world. In Germany, Caspar David Friedrich's works can be seen in Berlin, Dresden, Hamburg, Essen, Munich, Dortmund, Dusseldorf, Stuttgart, Hanover, Cologne, Leipzig, Frankfurt, Gotha, Mannheim and, last but not least, in his native city Greifswald.
Source:
Hamburger Kunsthalle, Birthe Frenssen, Johannes Grave and Dagmar Lißke