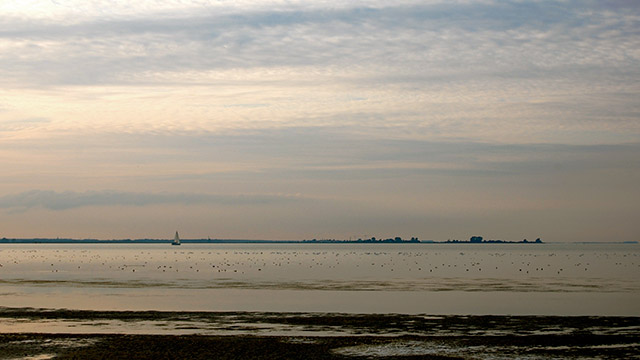 The Danish Wiek
The fishing village of Wieck, just outside Greifswald, is home to many of the motifs featured in Caspar David Friedrich's works.

The landscape around the present-day pier at the mouth of the river Ryck can be found in many of the artist's paintings, such as 'Stages of Life' (1835, Museum of Fine Arts, Leipzig) or 'Marshy Shore' (1832, Bavarian State Painting Collections, Munich).
From here, the fishermen used to set off to fish in the waters of the Greifswald Bodden (Bay of Greifswald) or the Baltic Sea. After a successful fishing trip, they would return to the safety of Wieck harbour, where they were often eagerly awaited by their loved ones or potential customers, which is also why this part of the harbour entrance was commonly referred to as the 'Utkiek' (lookout). Today, the site is home to a hotel and restaurant of the same name.

The nearby borough of Eldena, with its ruins of Eldena Abbey, was also a frequent subject of Friedrich's paintings. The special ambiance, that once so fascinated the artist, is still perceptible today. The passenger ship MS Stubnitz regularly invites the visitor to come aboard for a trip on the Bodden and sometimes calls at Ludwigsburg, a little port on the other side of the Bodden, where Friedrich's companion, Friedrich August von Klinkowström, was born and lived with his family. Visitors wishing to experience the extraordinary can book a sailing trip on the city-owned training ship 'Greif' or on one of the ships owned by the Museum Harbour Association of Greifswald.