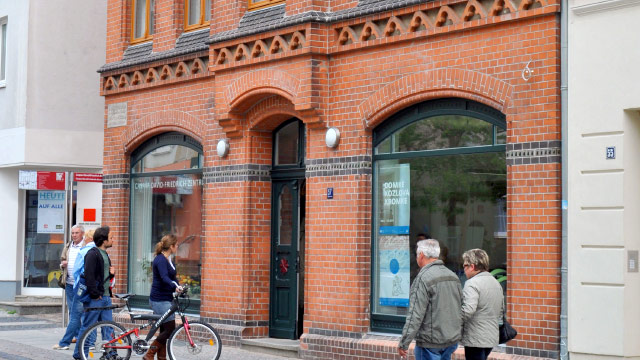 Caspar David Friedrich Centre
The Caspar David Friedrich Centre is located on a historic site: This is where the painter was born in 1774. Caspar David's father, Gottlieb Adolf Friedrich, bought the house in 1765, and the premises, comprising a front and a rear building. All these were owned by the Friedrich family for more than 200 years. In addition, parts of the family's old soap works have stood the test of time.

The Centre's permanent exhibition is dedicated to the documentation of the various phases of the artist's life, his choice of motifs in Greifswald and Pomerania, and provides background information on the family history and the trades of soap boiling and candle making. Since 2009, the Caspar David Friedrich Society has been running a project to conduct archival research into the history of the Friedrich family, the family home and the trades carried out by individual family members. The Caspar David Friedrich Centre regularly updates, revises and expands its records on the basis of recent research findings.
On the 240th anniversary of the artist's birth, on 5 September 2014, the Caspar David Friedrich Centre opened a new family room, the 'Familienkabinett', where for the first time visitors were able to explore a family tree, owing to the archival research carried out by the Caspar David Friedrich Society.

The preservation of the historic basement vaults comprising the family's soap and candle works is another essential element of the Centre's programme. Much of the original equipment has been preserved to this day and comes to life via various workshops in which visitors can try one's hand at these old trades.
The first floor of the Centre hosts the Caspar David Friedrich Gallery, where you can learn about the diverse public reception of the works and achievements of Caspar David Friedrich. Furthermore, the Gallery regularly shows works of the annual winners of the Caspar David Friedrich Prize, as well as works of artists who explore or refer to the topics and ideas of the Romantic era.
In addition, the Caspar David Friedrich Centre offers a varied and changing programme of talks, literary readings, exhibitions and workshops.