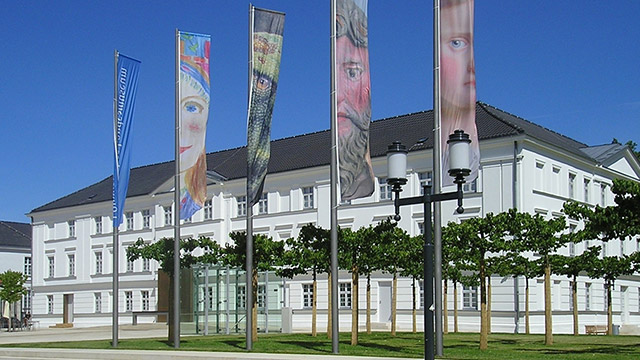 The Pomeranian State Museum
Original paintings in the Picture Gallery
Thanks to the opening of the Picture Gallery of the Pomeranian State Museum in the year 2000, it has once again become possible to show original works of Caspar David Friedrich in his native city. Some of his most exquisite paintings, such as 'Ruins of Eldena in the Giant Mountains', which is a gift from Friedrich to his eldest brother Adolf, the painting 'Neubrandenburg' that shows his parents' home town or the painting 'Rocky Landscape in the Harz Mountains', are exhibited in modern, specifically designated rooms. These rooms are situated in a former school that had originally been built by Friedrich's drawing instructor and architect Johann Gottfried Quistorp.
In 2006, the Gallery was able to procure two of Friedrich's rare paintings of indoor scenes: His wife is depicted in 'Caroline on the stairs' as well as in 'Woman with a Candlestick'.
In 2007, the Gallery succeeded in buying a set of paintings from Caspar David Friedrich's descendants, which had been passed on from one generation to the next. The collection includes an early portrait of Friedrich's eldest sister, Catharina Dorothea Sponholz, which for a long time had been considered lost. Other works contained in the collection include drawings, etchings and watercolours. The museum is particularly proud of the watercolour 'Greifswald Market Square', which Friedrich painted in situ during his honeymoon in 1818.

Apart from the masterpieces by Caspar David Friedrich, the Picture Gallery also hosts works by some of his friends and companions, including Philipp Otto Runge, who was born in Wolgast and who, like Friedrich, was not born into an artists' family. There are also works by the physician and painter Carl Gustav Carus or by Friedrich's neighbour at his house 'An der Elbe' No. 33 in Dresden, the Norwegian painter Johan Christian Dahl.