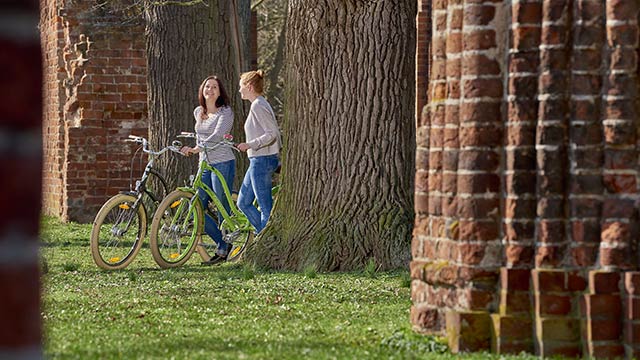 Route of North German Romanticism
Between the cities Greifswald and Wolgast, the Route of North German Romanticism combines the art and literature of the Romantic era with today's nature experience along the Bay of Greifswald – inland and coastal.
The biking trail focuses on four regional personalities of Romanticism: Caspar David Friedrich, Friedrich August von Klinkowström, Karl Gottlieb Lappe and Philipp Otto Runge.

From the ruins of Eldena Abbey to the museum Rungehaus Wolgast - on the altogether 54 kilometers route important life and motive stations of the painters Friedrich, Klinkowström, Runge and the poet Karl Lappe are passed. Including original locations with cultural treasures such as the Ludwigsburg castle, the vicarage Wusterhusen or the harbours of Vierow and Wolgast. Following the Baltic Coast Cycle Route (Ostseeküsten-Radweg), information boards at 10 designated stations provide interesting background information of the four protagonists and give selected tips on natural and cultural highlights along the route.
The tour starts individually (or guided by trained nature-culture guides) in Greifswald or Wolgast. A variety of lodging, dining and cultural options along the route invite for relaxed stops or longer stays.
More information about the Route of North German Romanticism and guided tours along the trail can be given by Tourismusverband Vorpommern e.V. and Caspar-David-Friedrich-Gesellschaft in Greifswald. Flyer with general information and a map with all stations are available at the tourist informations in the cities.