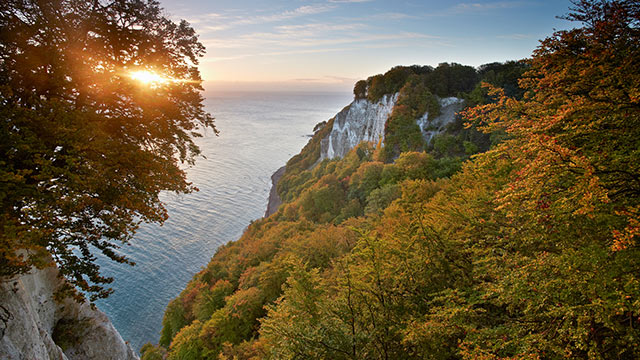 'naturally romantic'
To mark the 239th birthday of Caspar David Friedrich, the book 'Naturally Romantic' by art historian Dr Birte Frenssen from Greifswald was published in 2013. In 2010, Dr Frenssen curated the exhibition 'The Birth of Romanticism. Friedrich, Runge, Klinkowström' at the Pomeranian State Museum in Greifswald, which attracted well over 30,000 visitors.

The Tourism Association of Mecklenburg Western-Pomerania (TMV) and State marketing of Mecklenburg Western-Pomerania (LM) had decided to promote the state's importance as the 'cradle of Romanticism' for one year in order to encourage more visitors to discover the romantic side of Mecklenburg Western-Pomerania. To meet this end, the TMV and LM founded the state cultural initiative, called 'naturally romantic', which was inaugurated on 5 September 2013.

The initiative consists of a network of 40 partners, including the State Tourism Association, Landesmarketing, numerous museums and art collections, Festspiele Mecklenburg-Vorpommern (organisers of a classical music festival throughout the federal state of Mecklenburg Western-Pomerania), the environmental photo festival 'Horizonte Zingst' as well as the Königstuhl National Park Centre. They all contributed to a varied programme which allowed the visitor to experience the Romantic era throughout the region in a multitude of ways.

During the Year of Romanticism, Greifswald, the birthplace of Caspar David Friedrich, was at the centre of the initiative and staged a large number of events.

All in all, more than 100 events in relation to Romanticism took place throughout Mecklenburg Western-Pomerania in 2013 and 2014. Cultural highlights included the Pavilion of Romanticism organised by Musikfestspiele Mecklenburg-Vorpommern, the 'Week of Romanticism' in Greifswald, the creation of a Caspar David Friedrich exhibition at the Kunstsammlung Neubrandenburg, and the 24th exhibition of the Artist Association Mecklenburg Western-Pomerania titled 'Into the Blue – Romanticism in Contemporary Art'.

Throughout the year, more than 200 articles, with a total of 140 to 150 million copies circulated, were published under the heading 'Romanticism in the North-East' – even in countries such as Switzerland and Austria. Peter Kranz-Glatigny said: 'The initiative, 'naturally romantic', founded by the Pomeranian State Museum Greifswald and the Tourism Association of Mecklenburg Western-Pomerania has made an important contribution, at both national and international level, to the promotion of tourism in Mecklenburg Western-Pomerania and the enhancement of the state's image as a whole.'

The network 'naturally romantic' has continued its cooperation beyond the year of Romanticism, with the city of Greifswald placing particular focus on the region of Western-Pomerania (Vorpommern).